When marketing budgets are tight, frugal marketing ideas rule. Building a brand is an expensive business. It can take years to develop a loyal customer base. To do so, companies need to ensure they are in the public eye. For the likes of Amazon or Facebook, with multi-billion dollar budgets, the world is their oyster when it comes to marketing and advertising possibilities. Amazon is now the biggest advertiser or earth with an $11 billion advertising expense in 2019.
However, there are very few enterprises that can afford to have such huge budgets. A startup may only have enough capital to pay $5,000 per month, getting little return on investment. Google Ads, social media advertising, email campaigns, website design, and every else that goes into omnichannel marketing are not cheap.
The good news is that not all marketing needs to set you back a small fortune. There are plenty of more frugal ways to gain brand exposure. This article will focus on ideas for businesses to achieve marketing success without breaking the bank.
Frugal Marketing Ideas – Effective and Inexpensive ways to build your brand
Building your credibility
"A brand is no longer what we tell the consumer it is—it is what consumers tell each other it is." – Scott Cook
This quote from Scott Cook, co-founder of Intuit, is valid in several contexts. First, with billions of social media users worldwide each month, brands cannot underestimate how powerful it is.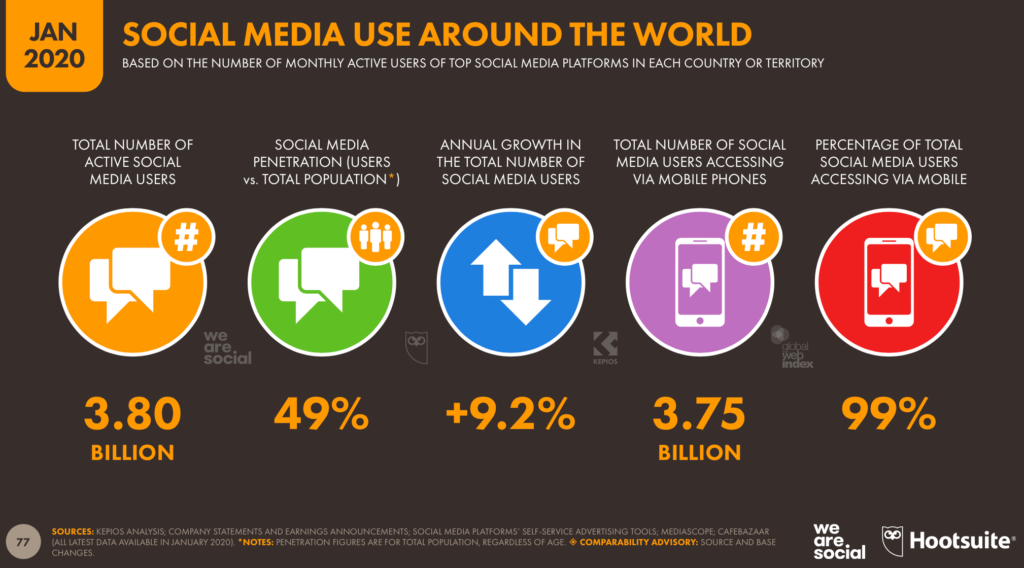 Source: Smart Insights
The use of free social media platforms is top of the list when it comes to frugal marketing. However, that does not make them a place to start feeding potential customers with spam. A business needs to take advantage of platforms like Social Pilot, to analyze their brand demographics and find the sweet spots in social media.
A business can think of social media as their megaphone. It is a way to shout at your target audience, making yourself relatable and credible. Of course, it can have the reverse effect if poorly done as the below example from the Benetton Instagram feed shows.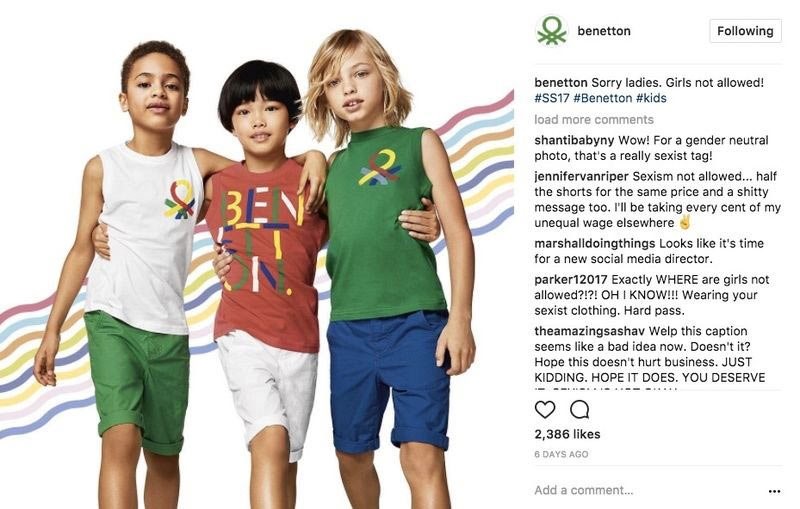 For social media success, a business must be selective with tight controls and effective budgeting. For a brand to be credible, any communication should respect the target audience, prompting likes, shares, and follows. Smart social marketing is more valuable than simply throwing money into ads.
Contributing to online news platforms
Billionaire entrepreneur Richard Branson once said that "publicity is absolutely crucial. A good PR story is infinitely more effective than a front-page ad." If a business can get themselves in the press, it can win new clients and investors quickly. A brand that features in Forbes, HuffPost, or BuzzFeed presents a professional profile via an endorsement that money cannot buy.
Unfortunately, there is no "golden ticket" when it comes to being featured on such platforms. The key is to make sure you have something worth saying. The popular news sites look for unique and exciting pieces and not an imitation of another writer.
Each publication will have specific requirements and preferences about the content they promote. For example, Forbes says any material must be original and exclusive to their site. Entrepreneur asks for work samples and reasons why you consider yourself an expert in your field.
Brian Ainsley Horn gives examples of how to become a contributor for other such sites in his blog post.
Content marketing is one of the most effective frugal marketing ideas.
Starting small
A new business is unlikely to gain support from a HuffPost or Forbes on day one. It is essential to plan a content strategy that builds a portfolio. A reasonable starting point is to develop thought leadership on LinkedIn, Medium, or other guest blogs. The goal of those posts is to make the reader feel like they have made a worthwhile investment by reading what you have to say. Every post you write should create a sense of value.
As you construct your brand with a credible profile, people will become familiar and want to do business with you. That idea of you're your brand will make it increasingly likely to feature in the more prominent news platforms.
Relationship building
The art of face-to-face communication still has a place in brand building. Speaking with analysts can be a profitable move in the marketing plan of a business. If you want the likes of Gartner, Forrester, or IDV to help influence buyers, it is crucial to engage at their level. For example, most readers will flick to the charts at the end of a Forrester Wave report without actually paying attention to what the reporter is saying. If you want them to work with you, understand what their goals are and what makes them tick.
The majority of analyst profiles will be available on the website of their company. When you find fundamental analysts in your sector, speak to them regularly. Forming a relationship where they trust you as an expert in the field takes time and effort.
Focus on retention
Marketing expenses often focus on client acquisition. A brand will push banners, notifications, emails, offers, and more to you, urging a purchase or registration. However, not many of those brands continue with enthusiasm to keep you with them. The infographic below from Invesp shows the channels marketers use for acquisition vs. retention.

The same infographic tells us that existing customers are 50% more likely to try new products and spend 31% more as compared to new customers.
The frugal marketer should consider the right customers to target and apportion spending in a more profitable way.
Get involved with video
Video satisfies the modern-day consumer need for engaging content that offers an experience. It is also a fantastic low-cost way for a brand to express their passion and credibility around a product or idea.
As is the case with content writing, video production will start small but can scale at pace as you gain more exposure. The critical part is creating a stream that people want. Famous YouTubers like PewDiePie have millions of subscribers by building a relationship with their fanbase.
An alternative to creating your videos is using a platform like Influenex. Users of Influenex can match their brand to a YouTube influencer who will be best for their promotion. The service offers a free trial to see how access to millions of subscribers can elevate your business.
Of course, professional videos can cost a lot. But you don't have to create expensive videos. Video is one of the powerful frugal marketing ideas that can convey authenticity and have lasting impact.
Summary
The takeaway from this article is that marketing does not have to be about spending vast sums of money for success. Frugal marketing ideas are aplenty and they work. Those with big budgets indeed have an advantage over the competition, but not all businesses are going to be like Amazon, Facebook, or Netflix. A well-planned, frugal marketing strategy still gives ample opportunity to promote and expose a company to the world.